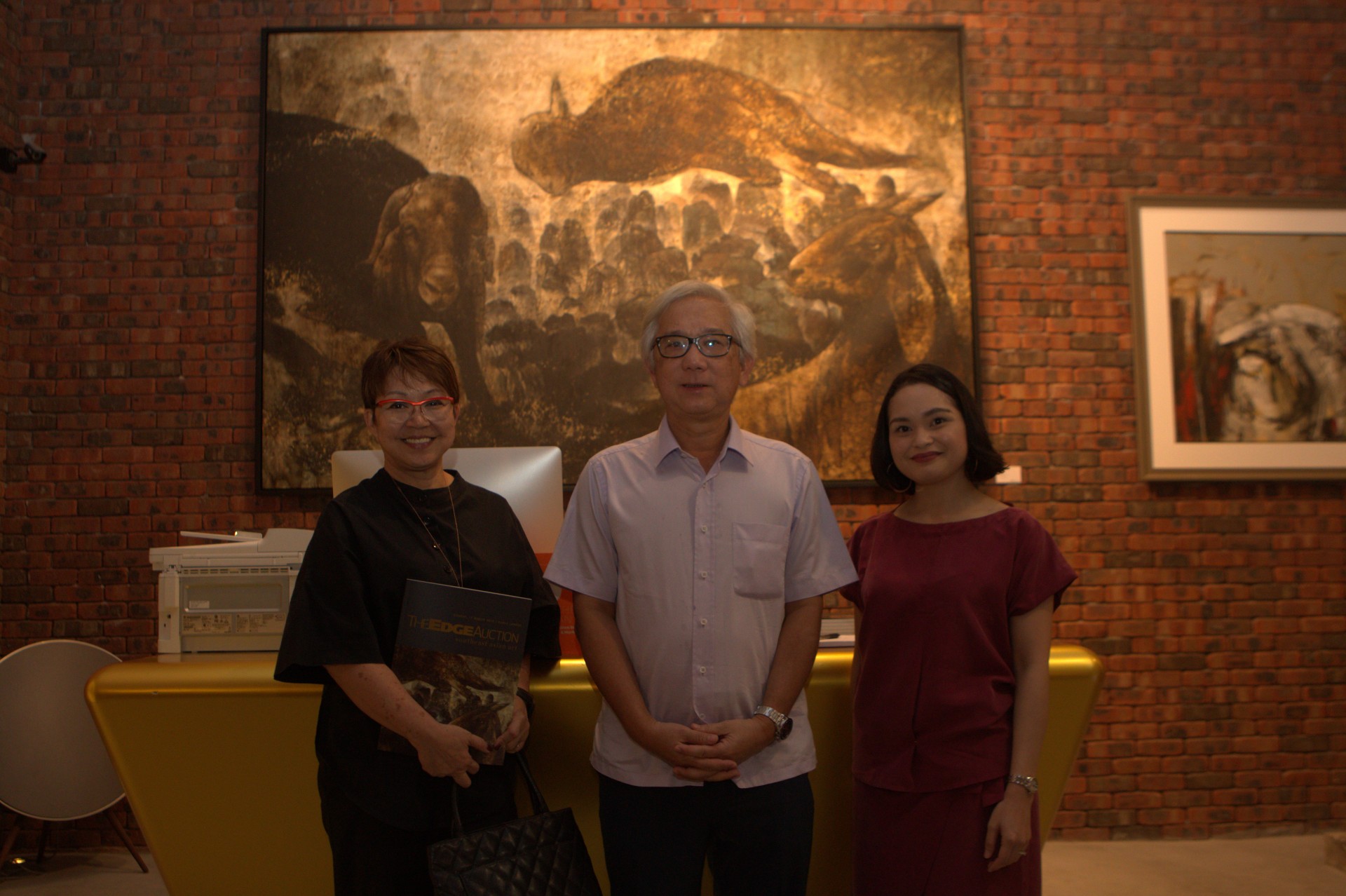 Broad selection of art for sale
Click here to watch a highlight video of the preview's launch.
Click here to see highlights of the auction.
Generally, the works are interesting. One of them that stands out is Hamir Soib's Kambing Hitam. Other works that I'm looking at are the three by Fauzul Yusri and Tay Mo Leong's Kampung Scene," freelance project consultant and collector Rick J Bok said at the launch of The Edge Auction 2019 preview last Wednesday.
The seventh edition of The Edge Auction will see 105 lots, comprising modern and contemporary Southeast Asian artworks, go under the hammer on March 17.
Among them is a diverse selection of regional art, including works by Indonesian  artists Jeihan Sukmantoro, I Wayan Sujana (Suklu), Gede Putra Udiyana, Yunizar, Besta Bestrizal, Dedy Sufriadi, Indra Dodi and Harlen Kurniawan, Singaporean artist Anthony Chua Say Hua, Vietnamese artists Thanh Chuong, Nguyen Thanh Binh and Bui Huu Hung, and Myanmar artists Win Pe and Myint Soe. Dedy Sufriadi garnered international attention with his solo exhibition at Art Fair Philippines last month. The exhibition featured a selection of works from his Hypertext Requiem series. The artwork offered at The Edge Auction — Hard Day's Night — is expected to fetch RM15,000 to RM25,000.
Among the guests at the launch were  Datin Karin Tan, Lebar Daun Bhd group executive chairman Datuk Noor Azman Mohd  Nurdin, architect Dr Tan Loke Mun, lawyer  Pakhruddin Sulaiman, Avinash Fine Arts director Jonathan Avinash Victor, Dr Steve Wong,  A+ Works of Art director Joshua Lim, Rachel Ng of Rogue Art, PINKGUY Gallery founderand director Winson Loh, Yee Tak Hong, Inge Marie-Holst, Syaharum Amin, Md Yuzree Md Yusof, Ruby Loo and Kuldip and Aage Aasmundsen. Also present was Studio + Works interior architect Arief Tajuddin, who is the son of artist Datuk Tajuddin Ismail.
Many attendees were interested in Khoo Sui Hoe's Lake Merah. The work was exhibited in a retrospective entitled The Painted World of Khoo Sui Hoe at the Penang State Museum and Art Gallery in 2001. Its estimated price is between RM35,000 and RM50,000.
G13 Gallery founder Kenny Teng said, "I like the artwork by Datuk Tajuddin Ismail for its size and colour ... it's a good buy. Overall, [the selection has] a good mix." The estimated price of Tajuddin's Blue Windrift is between RM29,000 and RM45,000.
Among the contemporary artists whose works will go under the hammer are Ahmad Zakii Anwar, Jalaini Abu Hassan, Amron Omar, Noor Mahnun Mohamed, Wong Perng Fey, Chong Siew Ying, Kow Leong Kiang, Tan Wei Kheng and Anthonie Chong.
The fabric and batik art segment will feature works by contemporary artists Azam  Aris, Anne Samat and Fauzin Mustafa as well as veteran artists Datuk Tay Mo Leong, Lee Long Looi and the late Ismail Mat Hussin.
Nanyang-style artworks will include those by Tan Choon Ghee, Tew Nai Tong, Datuk Tang Hon Yin, Peter Liew, Lui Cheng Thak, Lee Weng Fatt, Eston Tan and Alex Leong.
The Edge Auction 2019 will again offer live online bidding through Invaluable.com for its growing international clientele, alongside the conventional absentee and telephone bidding options.
The Edge Auction 2019 will be held at DoubleTree by Hilton Hotel at The Intermark, Kuala Lumpur, at 1pm on March 17. The public can preview the 105 lots at The Edge Galerie in Mont'Kiara, Kuala Lumpur, from March 7 to 15 (11am to 7pm) and on March 16 (11am to 3pm). The gallery is closed on Sundays and public holidays. To view the auction's e-catalogue, click here.