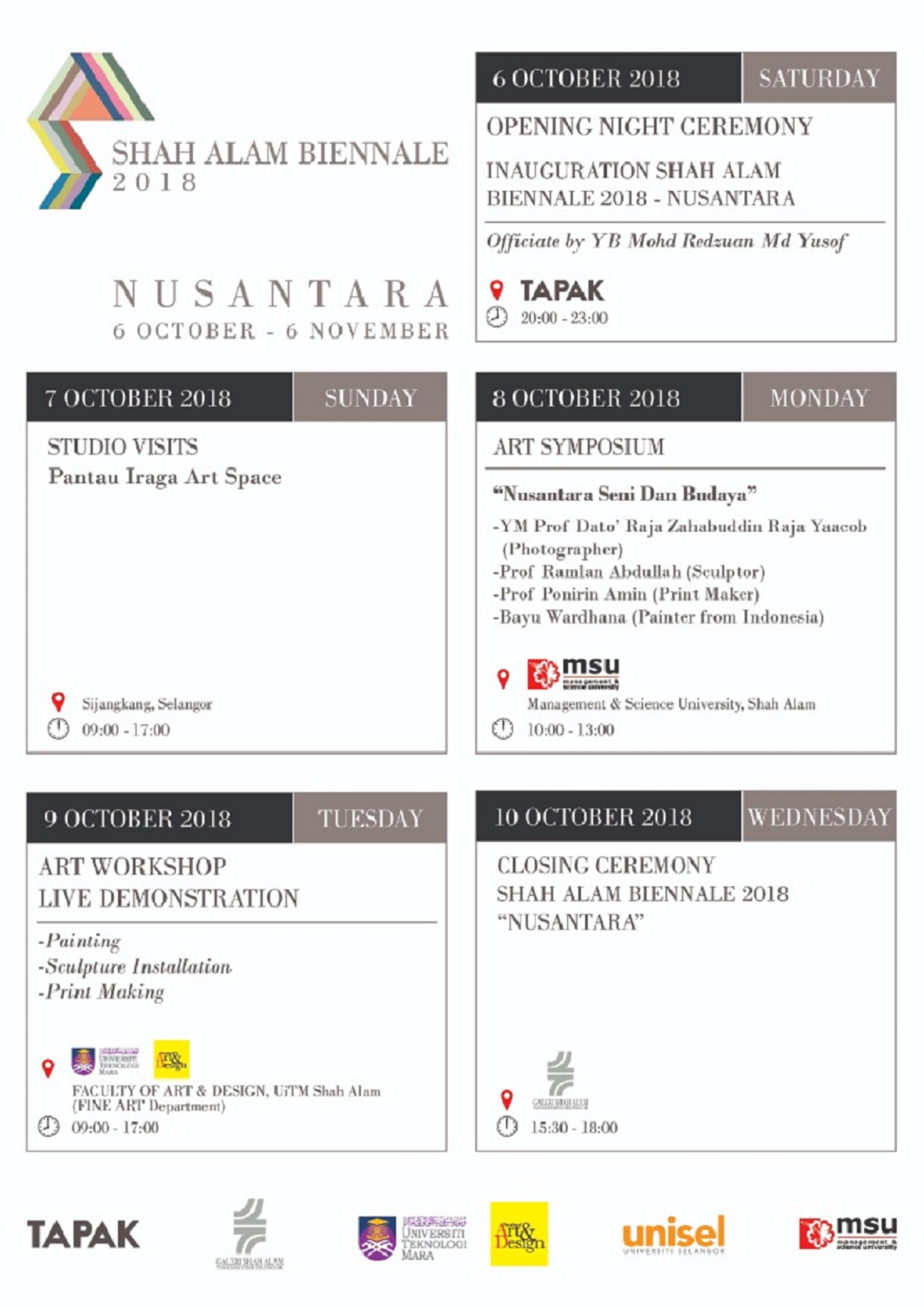 The Shah Alam Biennale is an event organised by Tapak Gallery that runs from Oct 6 to 10 2018. Centered around the capital of Selangor, the event will include participants from 15 countries across Europe and Asia. The 'biennale' will be held at various venues where workshops and forums will be conducted.
Participating countries are America, Brunei, Canada, China, Columbia, Czech Republic, Germany, Italy, Indonesia, Japan, Kazakhstan, Norway, Pakistan, Singapore and Vietnam.
The event will launch on Oct 6 at 8pm, the launch will be officiated by minister of entrepreneur development of Malaysia, YB Mohd Redzuan Md Yusof.
On Oct 7, studio visits to Pantau Iraga Art Space will be carried out from 9am to 5pm. An art space run by Malaysian abstractionist Awang Damit.
Oct 8 sees an 'art symposium' entitled Nusantara Seni dan Budaya, held at the Management and Science University. Taking part in the event are photographer YM Prof Datuk Raja Zahabuddin Raja Yaacob, sculptor Prof Ramlan Abdullah, printmaker Prof Ponirin Amin, Indonesian painter Bayu Wardhana. The session lasts from 10am to 3pm.
Live demonstrations of painting, sculpture installations and printmaking will be held at Universiti Teknologi Mara's fine art department. The demonstrations begin at 9am and will end at 5pm.
The closing ceremony, themed Nusantara, starts at 3.30pm on Oct 10 at Galeri Shah Alam.