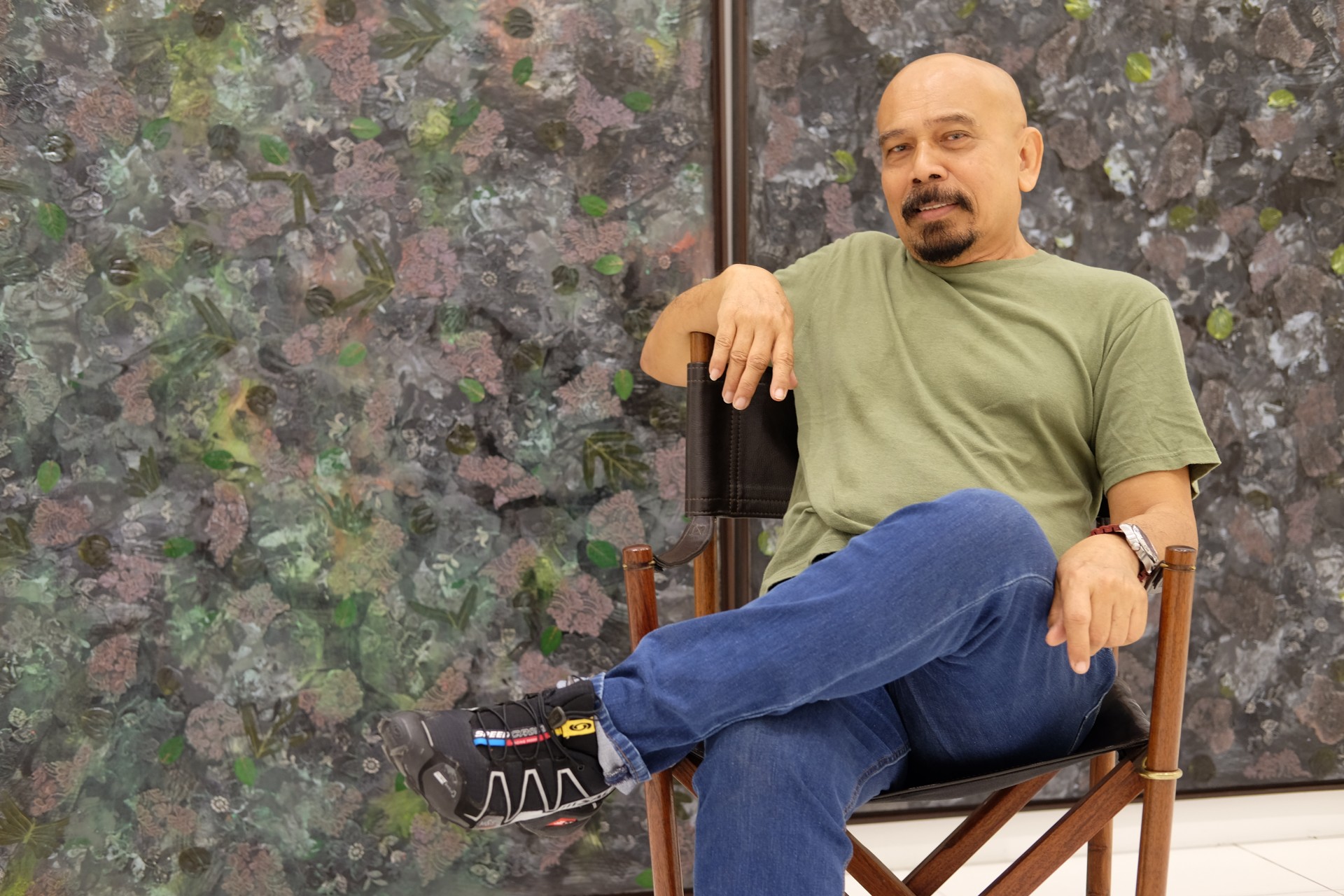 19 September 2018 - 5:11pm
It may not be a popular stance with politicians and investors but senior artist Fauzan Omar's enduring concern about the adverse impact of large-scale clearing of our rainforests – lately, for planting Musang King durian trees – has culminated in a show of protest with his solo, Bracing the Heat.
Looking at senior artist Fazuan Omar's career spanning more than three decades, it is evident that he loves to paint nature.  
"My scope of interest is strictly confined to nature. The manifestation of my art is all about nature," says the 67-year-old artist and former art educationist.
But it is not about the beauty of pastoral scenes or idyllic landscapes nor imagined seascapes.
"I am fascinated with and captivated by the mysterious [phenomenon] of irregular weather patterns, I am trying to understand the underlying structures, the patterns of change in our climate."
Citing his older works, Fauzan says, "My last series was Hazardous Beauty. It was about [the haze], a catastrophic and disastrous phenomenon. How do I see the beauty in it? Can fire and charred wood become art? Before that, I had a series in which I talked about sustainable development."
Nature remains the main theme in his artworks as the connection between it and the community is obvious.
"We are nature. It is part and parcel of our lives. You cannot detach yourself from the environment; it will be with you forever. [It is our duty] to safeguard it, to be responsible for it," says Fauzan.
The artist asks, "Water is a sort of security for us now, but what happens when it runs out? Especially with the heat right now, what if our dams run dry? What happens then? What will be the consequences? This is why I think the environment is very important."
With increasingly irregular weather patterns and major fluctuations in temperature, it is quite apt and timely to have an art exhibition that focuses on the adverse effects of intense heat.
The Penang-based artist's latest solo exhibition is called Bracing the Heat. Why this title? "It is an everyday engagement and reaction to the excessive and unbearable heat," retorts the artist who blames it on the effects of climate change.
His signature leaf-motif paintings are featured in this exhibition, together with innovative works combined to form sets. The 10 major works are entitled Blazing Flame 1 & 2, Enormous Heat 1 & 2, Panas di Malam Hari 1 & 2, Ready to Ignite 1 & 2 and Tropical Heat 1 & 2. They range in size from 1.5m by 1.5m to 1.5m by 1.8m. The four sets of installations are entitled Matahari, Bara, Without Rain and Kemarau.
In his latest works, Fauzan has added collage material such as fabric and plastic as well as a complex layering technique and minute painted details that resemble pressed flowers and leaves.
For example, in Blazing Flame 1, he layers plastic material on the canvas. "It depicts the unpredictable effects of burning, so I do not have to paint an image of the flame. And the flowers used are fabric so it produces a three-dimensional look.
"The process of my work include flattening, gilding, levelling, attaching and detaching. My art is all about being modular. When I talk about levelling, all those motifs are carved, then they need to be covered and levelled.
"This technique offers an element of surprise. There is no more tearing. I sometimes go back to the technique of collage in order to enhance it."
'NOT A CLIMATE CHANGE ARTIST'
In the Matahari works, Fauzan seems to have drifted towards a much more abstract approach than usual. He says the circular two-dimensional discs are signs and symbols of "unavoidable, unimaginable and uncontrollable tragedies that might happen". These discs also appear in the Kemarau and Bara series.
"I was thinking of ways to translate [my thoughts] about the weather in a way that would not categorise me as a 'climate change artist'. I didn't want that," says Fauzan, pointing out the change in his aesthetic approach. "I look at signs and symbols that lead to the unavoidable, unimaginable and uncontrollable tragedies that might happen."
The discs are slightly imperfect and have a slight relief in the paint, adding another dimension to the artworks. This is intentional as the circles resemble Earth.
Fauzan remarks, "It's a spiral of time, something that constantly moves round and round. The circle isn't perfect because Earth isn't, with its pollution and environmental destruction."
As for Bara which comprises strips of scorched wood, the artist alludes to the detrimental effects of pollution. "I pick up the burnt wood and strip off the layers. The magnitude of the flame as you can see, has been intense. The planet is no longer perfect -- parts of it have been blackened because of pollution."
Could these paintings then be considered as predictions? "Maybe," says Fauzan. "Heatwaves have struck Greece and California. Malaysia has not been hit as badly yet, but it very well might."
STRUGGLES AND OPPORTUNITIES
Born in Kelantan, Fauzan is the fourth of nine children. He is the only one of his siblings who studied art while the rest became teachers.
"It was a difficult time growing up in the 1960s, because nobody respected you when you graduated with an art degree," recalls the artist.
"There was a point in time when I almost gave up. The institutions provided no support, the National Art Gallery held only exhibitions by big names like Syed Ahmad Jamal, Ibrahim Hussein and Latiff Mohidin. If you tried to exhibit there yourself, you would always be compared with them."
EDUCATION HERE AND IN THE US
Fauzan cites Ismail Zain and Redza Piyadasa as two people who had influenced him the most. He adds that he also holds in high regard Yeoh Jin Leng, Dr Sulaiman Esa and Syed Ahmad Jamal.
Recalls Fauzan, "They were my teachers when I was at UiTM. Jin Leng came in as an external assessor and he walloped me!
"When I was a student, Piyadasa was all for my work, but Sulaiman was against my work! If they were teaching, they would quarrel constantly and I would be caught in the middle. They were very direct, very shrewd and aggressive. But at the end of the day, we were all like friends."
Fauzan went on to further his studies in the US and was accepted into the Maryland Institute College of Art. There, he met American artists Sam Gilliam, Jim Dine and the late Alice Neel.
"Speaking with them provided me with different perspectives. Jim Dine said to me, 'Throw away the books and forget about the writers. Always do something that you think is right.' But I disagree. I need the books because I can't make something out of nothing."
On differences in the art scenes of Malaysia and the US, Fauzan comments, "There was very strong support from institutions in the US ... there are so many galleries. There was no such thing as an exclusive contract where you would sign and only show your works with one gallery.
"In Malaysia, it's more about connections, about 'who you know'. If I wanted to exhibit at gallery 'A', then I would have to know person 'A', and so on."
Studying art in the US had a major impact on Fauzan's career as an educationist and artist.
Recalling his early years in the 1980s as a lecturer at Universiti Teknologi MARA, Fauzan found it "difficult" especially where people there were taught to be rigid and stuck to the conventional way of teaching and learning.
"Teaching was not that easy when they made everything simplistic," says the former art lecturer who also faced criticisms of his art when he was trying to establish himself.
In 1985, he finally won the first prize in the Permodalan Nasional Bhd Art Competition in Kuala Lumpur after getting only consolation prizes in 1972 and 1982.
"It was a turning point. The people who condemned my work earlier kept quiet after that," remarks Fauzan. The rejection of his art when he first started out still rankles.
And he still holds dear to his early works such as the painting he submitted in 1971 to the Great Malaysian Landscape Art Competition organised by the National Art Gallery. Instead of painting a landscape, the work was about natural forces such as thunderstorm and soil erosion that brought disasters. That work won a consolation prize.
"I have never detached myself from nature. It has become my main subject and it is manifested in my art," adds Fauzan, who has experienced his fair share of disappointments and achievements.
"In 1988, I won the major award in the mural competition organised by the Association of Banks Malaysia at the National Art Gallery. That was a high point. The prize was RM20,000."
Buoyed by his success in art competitions, Fauzan felt confident enough to hold his first solo exhibition in 1991 at the Australian High Commission in Kuala Lumpur. But not a single one of his works was sold.
But his luck soon turned for the better. In 1995, he won another major award in the Philip Morris Art Competition at the National Art Gallery. And in the same year, he received the Australian Cultural Award from the International Cultural Relations Department of Foreign Affairs and Trade of the Australian High Commission.
Although he has taken part in group exhibitions over the past three decades in Japan, India, Bangladesh, Thailand, Singapore, Australia, Indonesia and the United States, he has kept his career as an artist on the back burner as he was spending most of his time teaching.
But in recent years, Fauzan has become more active in reigniting his art career. In 2016, he participated in a couple of residency programmes at Thaksin University in Thailand and the University of Dhaka in Bangladesh.
In January last year, Fauzan retired as a lecturer from Universiti Sains Malaysia and has devoted most of his waking hours to his art. In fact, art has consumed him and he agonises over the minutest details of his work. "Each time I think about how to make the artworks different because I do not want people to come and see the same things all over again."
Reflecting on how teaching has benefited his artistic career, Fauzan says, "It' is about approach, methodology, teaching, commitment and knowledge. Teaching art is different from being an artist. You have to know the right methodology, the right technique in teaching. It gave me a proper structure to work with, and vice versa, it also benefited my teaching."
What stage of his career is he at? "I don't know where I stand right now. All I can say is I am more mature and can distinguish between wrong and right," he replies.
Fauzan expresses gratitude, "I just want to give my thanks to all who have supported me. I am really grateful for the opportunity to have an exhibition. I see this as something new. When I was offered to have a show here (at The Edge Galerie), I worked non-stop for one whole year."