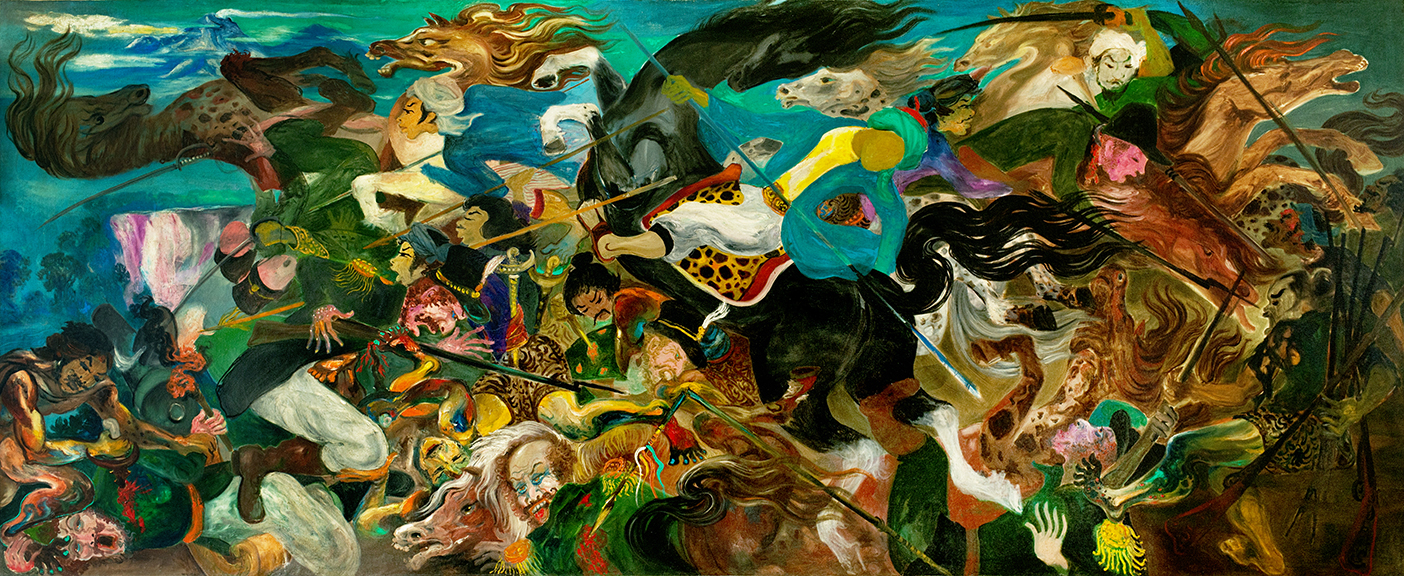 A Centenary Celebration of Hendra Gunawan
Indonesian company Ciputra Artpreuner will host two exhibitions in Jakarta as part of their art programme, 100 Years Hendra Gunawan - A Centenary Celebration. The programme commemorates Hendra's 100th birth anniversary and will be in tandem with the Art Jakarta fair at the Pacific Place mall from Aug 2-5.

Entitled, Hendra Gunawan: Prisoner of Hope and Spektrum Hendra Gunawan, the exhibitions will open on Aug 5 at the Ciputra Museum and the Ciputra Gallery, respectively.
Prisoner of Hope will be a permanent exhibition comprising 32 works curated by Agus Dermawan T. and Aminudin TH Siregar.
 
The collection belongs to Ir. Ciputra, chairman of Ciputra Development. 

This exhibition is said to be an homage to Hendra whom Ciputra described as, "an artist who was able to bring forth (the) theme of profound humanity."

A press release from Cipurtra Artpreuner touts Prisoner of Hope as the "largest Hendra Gunawan exhibition to be presented in Indonesia." It is also said to feature a significant number of Hendra's works that have never been publicly exhibited.

The press release points out that, "Prisoner of Hope alludes to the 13 years that Hendra Gunawan spent in the Kebun Wara prison for  his  alleged  activities  with  Lekra,  the  People's  Art Movement  in  Indonesia  active  in  the  1950s  and  60s.  However,  beyond  this  reference  to  Hendra's  physical  imprisonment,  the  exhibition  reflects  upon  the  notion  of  hope  that  Hendra carried  with  him  throughout  his  life.

"This  hope  manifested  itself  in  the  sacrifices  he  made  for  his  first  love  -  Indonesia,  as  he  constantly  strived  to  impart  a  sense  of  freedom,  an  artistic  energy  and  a  new  vision  to  the  Indonesian  people.  He  pictured  Indonesians  as  hardworking  people,  portrayed  in  most  of  his  paintings  as  fishermen,  farmers,  market  vendors,  women  and  men  toiling  together  in  the  fields,  husbands  and  wives  working  hand-in-hand,  children  and  parents  being  together  as  a  family.  He  nurtured  this  hope  right  up  to  his  death  in  Bali  in  1983,  leaving  Indonesia  and  the  world  with  the  legacy  of  his  ideas,  ideals  and  art."

Spektrum  Hendra  Gunawan,  is said to highlight Hendra  Gunawan's  importance  and  relevance  to  Indonesian contemporary  art  practices  today. Curated  by  Rifky  Effendy,  the exhibition is said to be a  contemporary  response  to  Hendra  Gunawan  and  his  art. 

Featuring  works  by  70  Indonesian contemporary artists, Spektrum Hendra Gunawan is, "seen as a form  of  tribute,  honouring  the  art  of  Hendra  Gunawan  by  way  of  reading, contemplating  and  re-experiencing  the  many  aspects  found  in  his  artistic  praxis." 

"The  works  in  the  exhibition  offer  new  perspectives  and  discourse  into  Hendra  Gunawan's  art,  reinterpreting  it  vis-à-vis  today's  contemporary  art  practices."

The  works demonstrate  the  diversity  of  media,  from conventional  art  techniques  such  as  painting,  sculpture,  or  ceramics,  to  new  media  works,  video,  assemblage,  installations  and photography.

Among  the  70  artists are  Agung  Kurniawan,  Agustina  Sitompul,  Arkiv  Vilmansa,  Davy  Linggar,  Eddy  Susanto,  Eldwin  Pradipta,  Erika  Ernawan,  Franziska  Fennert,  Galam Zulkifli, Hanafi,  Heri  Dono,  Jumaldi  Alfi,  Made  Wianta,  Mella  Jaarsma,  Nasirun,  Nindityo  Adipurnomo,  Otty  Widasari,  Patricia  Oentario,  Putu  Sutawijaya,  Theresia,  Rancajale  and  Ugo Untoro.
For more details, visit: www.ciputraartpreneur.com