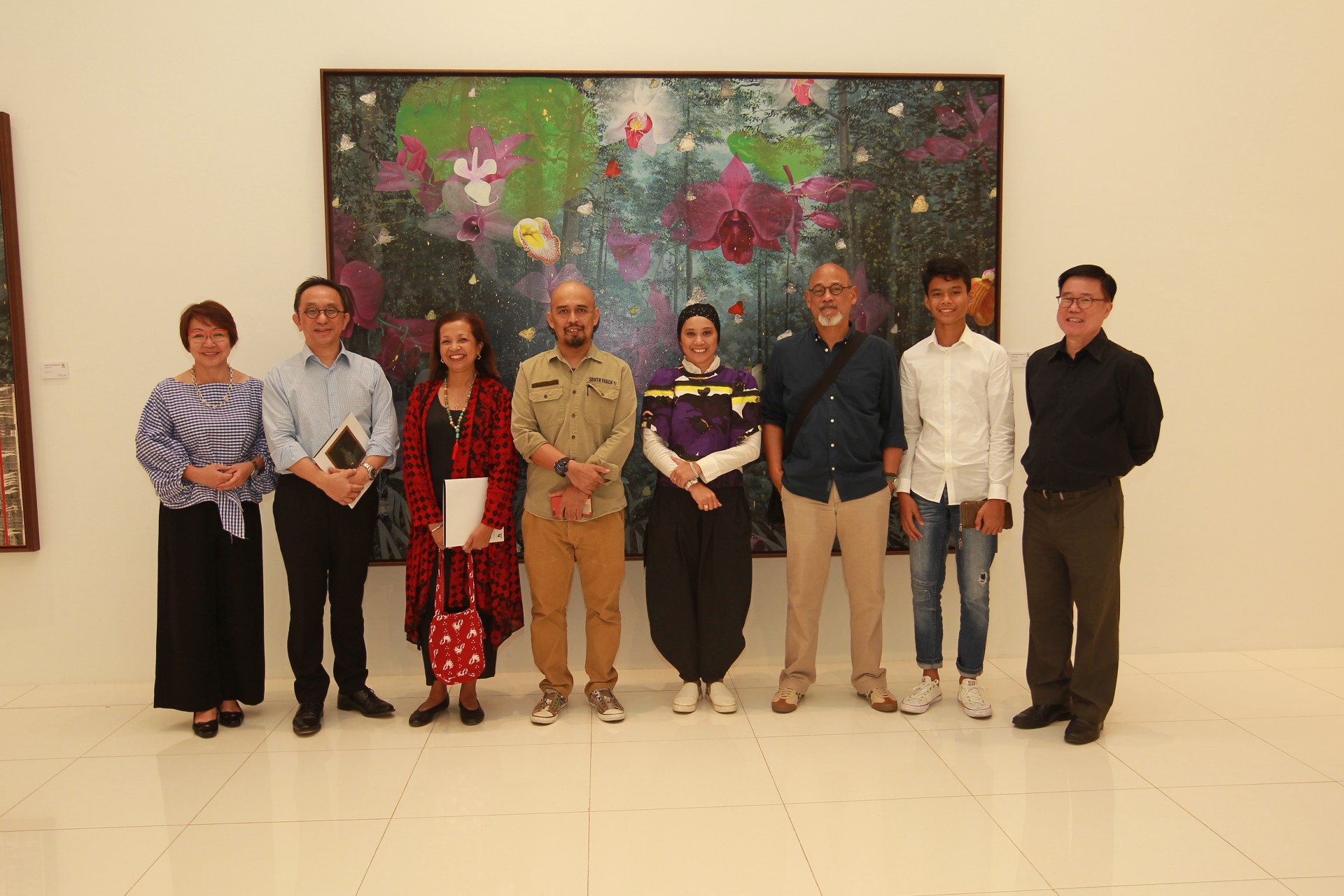 Intriguing works that reflect current issues by contemporary artist Ahmad Shukri Mohamed, 48, drew over 100 art lovers to the preview of his 8th solo exhibition at The Edge Galerie last Wednesday.
The 23 paintings and mixed media works exhibited under the theme, Made in Malaysia by Ahmad Shukri Mohamed: Works from 2010-2017, included titles such as Happy Birthday to Mao Zedong, Made in Malaysia, Putrajaya-Beijing, I Was Here, Justice League, Land for Sale, Balloons from Neighbour, Do Not Allow as well as Kami Menurut Perintah, Yes Boss and Daulat Tuanku, Raja Kami.
The artworks are from his ongoing series that reflects the challenging developments and difficult issues that the country has been experiencing over the years.
The Kelantan-born artist was delighted with the large turnout. Prominent collector Zain Azahari, with his son, Azmir Zain, who is Malaysian Aviation Commission COO, and Azmir's wife, Haslinda Hussein, were among the guests.
"Tonight's preview is very special as many collectors, academicians, art lovers, artists and friends came to support me. It's better than I imagined," said Shukri, who was accompanied by his artist wife, Umibaizurah Mahir Ismail, and their son, Adam Lais.
Among the earliest to arrive was another wellknown collector, property developer Datuk Noor Azman — who has established a private art space in Shah Alam — followed by Ireka group managing director Datuk Lai Voon Hon and architect Dr Tan Loke Mun, who is in the process of building an enormous art museum in Selangor. Other elite
collectors included Dr Steve Wong, Dr Askandar Kamel and Dr Hanizah Aman Hashim, L C and Gouw Kim San, Mohd Suhaimi Ahmad and Sarah Abdul Aziz.
Other distinguished guests included Datin Paduka Marina Mahathir and her husband, Tara Sosrowardoyo, a professional photographer; Jaya Section Fourteen Sdn Bhd director Ismail Ani Arope; KWAP Private Equity department assistant vice-president Syed Salehuddin Wafa; PTA Design principal Peter Tan; and CCN ConsultingSdn Bhd director Jimmy Chiam. 
Leading artists who attended the preview included Jalaini Abu Hassan (Jai), Bayu Utomo Radjikin, Anum, Kow Leong Kiang, Chong Ai Lei, Samsuddin Wahab, Bibi Chew, Zac Lee as well as Phuan Thai Meng and Shafiq Nordin.
Among the art dealers and gallerists were G13 directors Kenny Teng and Wendy Chang; Artemis directors U C Loh and S A Jamal; RKFA director Michael Tan; Segaris Art Centre manager Nur Zahirah; A+ Works of Art director Joshua Lim; Suma Orientalis director Kris Lee; and WL Art Gallery director James Lee and his entourage.
"The show is very interesting," said G13's Teng, "because you can see different bodies of work. Some of the paintings can be very political but some not, it depends on your interpretation."
"The exhibition felt like a review of the different phases of Shukri's career as an artist. I really like the paper work, it shows the sensitive side of the concept of truth," said Anum.
Also at the preview were The Edge Galerie Sdn Bhd and The Edge Property Sdn Bhd managing director Au Foong Yee.
Supported by leading development company, Matrix Concepts, the exhibition will be held until Oct 13. The gallery is open from 11am to 7pm daily, except Mondays and public holidays. Log on to www.theedgegalerie.com for the e-catalogue and details.