Contemporary Ink Art: Confluence
5 September 2017 - 3:29pm
Works by  Hans Hartung, Charles-Hossein Zenderoudi, Krishen Khanna & Isamu Noguchi
On Oct 2, Sotheby's Hong Kong will auction ink paintings by notable modern masters such as Hans Hartung, Charles-Hossein Zenderoudi, Krishen Khanna and Isamu Noguchi, whose works are distinguished for their use of ink, brush, and/or calligraphic principle.
Entitled, Contemporary Ink Art: Confluence, the thematic sale of contemporary art brings together a dynamic range of works by artists trained in, or influenced by, the ink painting tradition.
Inspired by the fabled Silk Road—which carried not only textiles and spices, but also the creative traditions of Eurasia's many cultures— the sale brings together works from China and its neighbours in the East, alongside European, South Asian, and Middle Eastern pieces  While the geographical boundaries and formal definitions of ink art are increasingly blurred, the rich tradition of ink painting continues to inspire many forms and embodiments of history, tradition, and innovation.
Sotheby's Hong Kong Contemporary Ink Art department head Katherine Don says, "Sotheby's has a pioneering role in introducing contemporary ink art to the international marketplace which adds energy and momentum to this innovative category. Presented for the first time in Hong Kong, the sale features paintings by notable modern masters such as Hans Hartung, Charles-Hossein Zenderoudi, Krishen Khanna and Isamu Noguchi, whose works are distinguished for their use of ink, brush, and/or calligraphic principle.
"Historically relevant, exciting and fresh to market works by other leading contemporary artists include Inoue Yuichi, Tseng Yuho, Li Huayi, Liu Dan, Gu Wenda, Li Jin, and Xu Lei. Ink is more than just a medium; ink art is a transnational concept that embodies one of the world's most expressive and sophisticated aesthetics."
Sale Highlights
In dialogue with Chinese tradition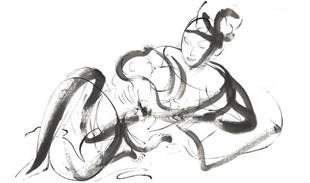 Following his visit to Beijing in 1930, Isamu Noguchi (1904–1988), said, 'All Japanese art has roots in China'. Peking Drawing (Mother and Child) is a special ink painting by this distinguished Japanese American sculptor, who studied with one of China's most revered modern ink painters, Qi Baishi (1864–1957). This unique piece depicts the universal subject of the intimate relationship between mother and child which is articulated by bold brushstrokes that illustrate form and movement observed from Qi's masterful free-spirited lines and purposeful use of void space. The tutelage had a lasting influence on Noguchi's oeuvre and outlook for the rest of his long artistic career. This painting is unusual in the market as such works have only recently been exhibited in American institutions.
Ink in European Abstraction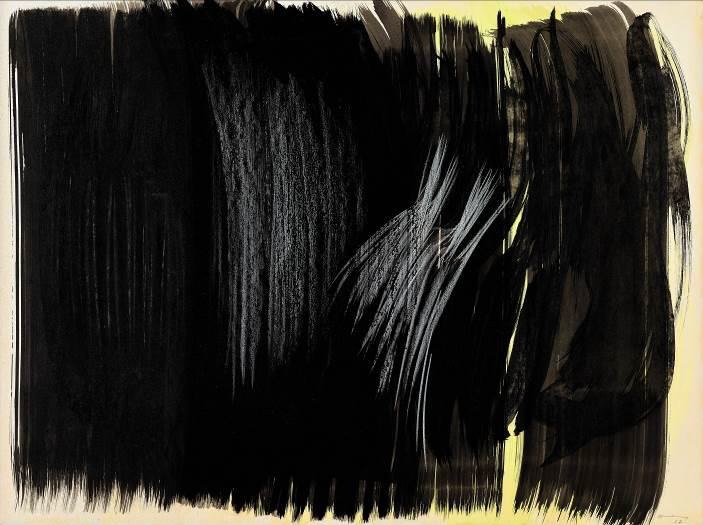 Hans Hartung is arguably one of the most outstanding representatives of the Ecole de Paris from the early 20th century, acknowledged as a pioneer of tachisme, which later became known as the European equivalent of American Abstract Expressionism. This 1967 ink painting is emblematic of Hartung's deliberate exploration of space and recording of movement using bold brushstrokes and solid black colour. As is evident from his high school experiments in abstraction, Hartung favoured the use of ink for its personalized expression and black as the colour which embodies all others. He established his artistic language decades before the Euro-American Abstraction movements were formalized and claimed no connection with Asian calligraphic and painting traditions from the outset.
Ink as inspiration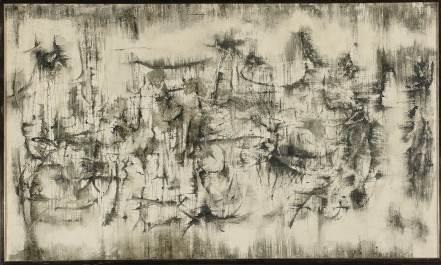 One of the most venerated artists born in Lyallpur, India (now Faisalabad, Pakistan), Krishen Khanna is an influential figure of modern Indian art. Khanna was truly influenced by the progressive modernism of Souza, Raza and Husain, who embraced anarchy on the canvas as a declaration of freedom and disparagement of colonial rule. Determined to seek innovation, Khanna was inspired by the sumi-e ink painting tradition and explored not only the ink medium but line and form as well in his paintings. A Graph of Pleasure and Pain was created at the end of a decade long engagement with Expressionism and the year before his immersion into ink painting during studies in Japan. This painting has been held in private hands since its creation and was most recently exhibited at the groundbreaking exhibition ''India: Contemporary Art from Northeastern Private Collections'' at the Jane Voorhees Zimmerli Museum at Rutgers University in 2002.
Calligraphy as the Building Blocks of Painting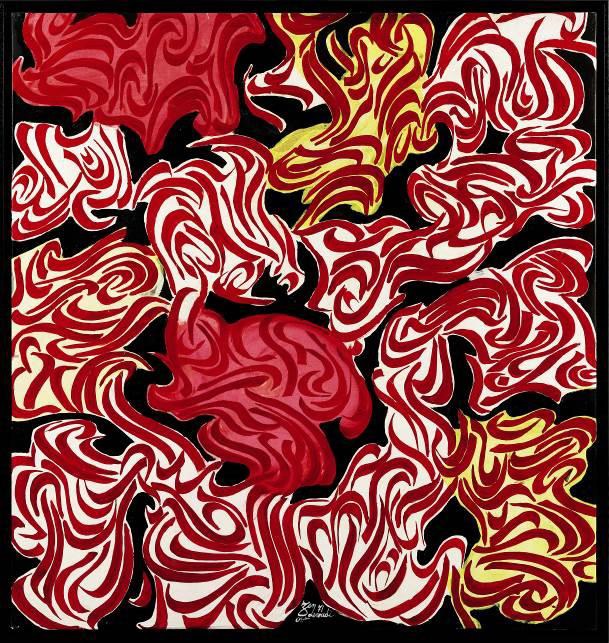 Born in Tehran and based in Paris, Charles- Hossein Zenderoudi is one of Iran's most accomplished modern artists, and was the founder of the influential Saqqa Khaneh movement. Drawing on the creative movements of Expressionism and Lettrism, Zenderoudi cultivated an abstract painting style imbued with calligraphic forms and gestures.
In the 1970s, when French intellectuals were interested in China, he began to incorporate allusions to Chinese painting tradition in his works. Referring to the Confucian proverb, "When the sun rises, my heart fills with light," in the title, the present painting SEDA + SOBH + ZOUD is a colourful work of pigments and acrylic on canvas that mirrors Chinese literati painters' depictions of scholar's rocks. One of two Zenderoudi paintings in this auction, this work is a captivating example of his iconic painting style to layer and superimpose Persian words on one another in an indecipherable but captivating image.​