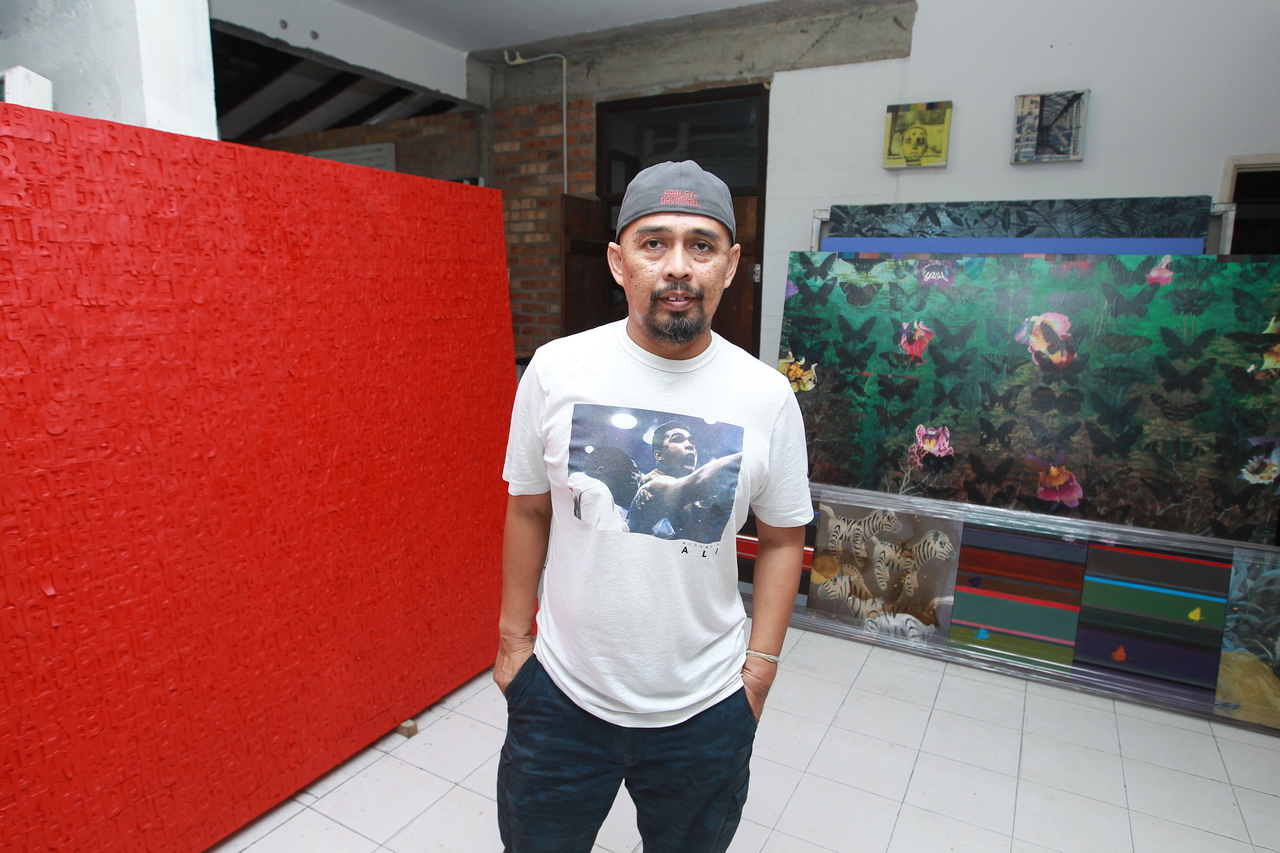 27 September 2017 - 1:03pm
Contemporary artist Ahmad Shukri Mohamed creates a body of works that celebrate the nation in an upcoming solo exhibition at The Edge Galerie.
Having practised art professionally for over two decades, Ahmad Shukri Mohamed, 48, is showcasing 23 artworks in his eighth solo exhibition entitled Made in Malaysia: Works by Ahmad Shukri Mohamed from 2010 to 2017.
Comprising four series spanning a seven-year period: Postcards from Malaya, Made in Malaysia, Golden Gate and Text depicts Shukri's personal endeavours to narrate the story of the nation.
"The message that I am trying to convey in Made in Malaysia is not about the Malaysian culture per se. Not in the sense of cultural commodity or things being made locally, but to illustrate the economic, social and political landscape that has occurred in Malaysia since independence and how the country is projecting itself to the global front. As citizens, we want our nation to stay competitive with our neighbouring countries like Singapore, Thailand, Indonesia and the Philippines," pointed out Shukri who is former Matahati member. Formed in 1989, the collective was disbanded in 2014. It had comprised other leading contemporary artists such as Bayu Utomo Radjikin, Ahmad Fuad Osman, Hamir Soib Mohamed and Masnoor Ramli Mahmud. 
Apparent in his artworks are subtle and symbolic images embedded within the lush rainforest landscapes of Golden Gate series that represent the environment as well as tediously layered alphabets – canvas cut-outs, oil painted and adhered onto canvas and are presented in the form of a blackboard – as an allusion to the education system from his Text series.
The exhibition title aptly corresponds with recent social events like the 29th SEA Games where Malaysia played host for the sixth time and becoming champion with 145 gold medals; Malaysia's 60th independence celebration on Aug 31 as well as Malaysia Day on Sept 16.  
Text Series
---
In Text series, Shukri offers viewers his visual interpretation of the political climate, reduced through text and colour-only approach. Pregnant with meaning, one has to read between the lines to fathom Shukri's thoughts behind each work. 
"Text series is beyond visual aesthetics. I want to highlight the importance of education, knowledge and the idea of understanding context. When we read a text, do we question ourselves and analyse further? Or merely reading and accepting what is written?" said Shukri.
Daulat Tuanku – Raja Kami (Our King) is a large mixed media artwork measuring 213cm by 213cm, which features canvas cut-out alphabets painted in black that is repetitively adhered onto canvas in three layers and reads "Daulat Tuanku" (long live the king). A silhouette of the anonymous Sultan is doodled in white chalk with the inscription "Raja Kami - Our King" above it.
"Daulat Tuanku represents the history of Rukunegara (National Principles), which was declared on Merdeka Day 1970 instituted by royal proclamation after the race riot of 13 May 1969. One of the duties of the Yang di-Pertuan Agong as the Head of Islam is essential in maintaining harmony in the country. It is a reminder to Generation Y who seems to think history as unimportant," explained Shukri.
It is also coincidental that the current Yang di-Pertuan Agong, Sultan Muhammad V is the Sultan of Kelantan, a state northeast of Malaysia where Shukri was born.
Happy Birthday Mao Zedong illustrates the silhouette of a historic event: the handshake between Tun Abdul Razak Hussein and Chairman Mao Zedong in 1974. In a similar fashion, the words "Happy Birthday Mao" are spelt out with cut-out alphabets painted in bright red and framed like a chalkboard with pieces of colourful chalk sticks lined at the bottom of the board.
"Forty-three years later, under the leadership of Tun Abdul Razak Hussein's son, Prime Minister Najib Razak, Malaysia is undergoing massive developments such as the Forest City mega-project at Iskandar, Johor. This work represents our special relationship with one of the world's superpower, China," explained Shukri.
Two works entitled Made in China 'Putrajaya ↔ Beijing' and Made in Malaysia 'Putrajaya ↔ Beijing' depict similar sentiment with another project, the East Coast Rail Link, which is set to cost USD13.1 billion was signed by Malaysia Government with state-owned China Communications Construction Company Ltd in November 2016 and is currently being constructed.
"The irony with history is that the world had once opposed the communist ideology in China but now, we rely on the very nation for advancement in technology and for the development of our own country," said Shukri.
Bersih - Jalur Gemilang suggests the cleansing of Malaysia in order to progress. Measuring 157.5cm by 157.5cm, the artwork is also laboriously composed of cut-out canvas painted in black with the word "bersih" (clean) repetitively and neatly placed all over the canvas. The fluttering Jalur Gemilang is outlined across the panel in white chalk.
"I don't mean Bersih the political movement, but literally the meaning of the word itself, to clean everything that is damaging to our country. In the past, one would have to travel to learn about a new country. But today, with information technology, anyone from anywhere can know about Malaysia without having to travel here. So, how and what do we want to project?" asked Shukri.
In Text series, Shukri has incorporated the style of fabric collage and layering influenced by his mentor Fauzan Omar during Shukri's apprenticeship years with the artist and educationist in the early Nineties.
Golden Gate Series
---
The colossal scale of Garden of Heaven dated 2010, which measures 208.4cm by 289cm, illustrates the beautiful rainforest of Malaysia. "The artworks in this exhibition not only portray current affairs - be it good or bad - but also to highlight the rich nature in our country. Garden of Heavensignifies the perfection of the forest and the uniqueness of Malaysian flora and fauna," commented Shukri.
"Our country is rich with natural resources: oil, gold, wildlife, unique flora species, how can we manage and preserve this so that we can maximise our resources but at the same time not destruct the environment?" asked Shukri.
He used the Malay idiom "marahkan nyamuk, kelambu dibakar" or similarly "don't throw the baby out with the bathwater" to encapsulate unwanted events that have occurred during our journey to progress such as deforestation.
Illustrated in Land for Sale #1 is a rainforest landscape in the background with the side profile of an astronaut on the right and an image of a rhinoceros on the left. At the bottom of the canvas is a collage of foreign currencies.
"I have incorporated foreign currencies like British Pound Sterling, Singapore Dollars, Chinese Yuan Renminbi, Japanese Yen in this work to indicate the global economy and foreign investors in Malaysia," said Shukri.
"Malaysia is also keen on space exploration, science and technology, but to achieve this, we have to be an educated nation," said Shukri.
Postcards from Malaya and Made in Malaysia
---
Titled I Was Here, the images of 12 colonial postcards from various states of Malaya are transferred onto wood and presented in a variety of gilded frames. Offered as a set, the artwork features nostalgic landscapes of old Malaya: kampung hut, coconut plantation, colonial administrative buildings by the riverbank, wildlife images, a historical scene from Merdeka Day, and more. Shukri added a touch of quirkiness by incorporating a colourful collage of birds into the artwork.
This series depicts Shukri's ability to render printmaking technique in his mixed media approach to art-making. Shukri's capacity to create extends beyond painting. Also featured as part of his artworks are customised framing for works such as Kami yang Mengikut Perintah – Yes Boss from Text series; I Was Here from Postcards from Malaya series; and Made in Malaysia series.
A suite of nine watercolour paintings depicting events from newspaper clippings are illustrated in a liberal manner in Made in Malaysia series. Symbolic iconography such as diamond-shapes, silhouettes of handbags, luxury cars, armoured tanks, handcuffs, suicide vests, and more, are some of the top stories published in local newspapers.   
"One way for us to become a developed nation is to cleanse ourselves from negative criminal activities. For instance, for most developed countries, rarely will you read about petty news on the front pages of the newspapers. Unlike in Malaysia, the front pages are often of crimes like bribery, theft, bullying, rape, and so on."
Each of these watercolour paintings is presented in a unique way - every frame is lined with fabric such as the traditional songket, which has been carefully selected by Shukri - with an embroidered label that reads the title of the exhibition, Made in Malaysia, attached at the lower centre of the artwork.  
"I am only able to explore different modes of presenting or framing with Jinjit Station by Patisatu studio. It's not a frame shop but an open studio where the public can come and express themselves creatively in a way that they understand. For instance, a collector of vintage toys may not know art, but we are here to help them achieve their creative thoughts on how they would like to display their pride and joy," explained Shukri.
Jinjit Station is a social enterprise established by Shukri and his wife, ceramic artist Umibaizurah Mahir @ Ismail in 2010. Located in Puncak Alam, Selangor, the "open studio" accepts framing customisation orders from the public as well as the arts community. 
Held at The Edge Galerie in Mont' Kiara, Kuala Lumpur, Made in Malaysia by Ahmad Shukri: Works from 2010 to 2017 runs from Sept 28 until Oct 13. For more information, visit www.theedgegalerie.com.