The sacred journey continues
An exhibition of 88 works of Hindu temples from the private collection of medical lecturer Prof Dr K G Rampal and his wife, Kamla, is on view at the National Art Gallery in Kuala Lumpur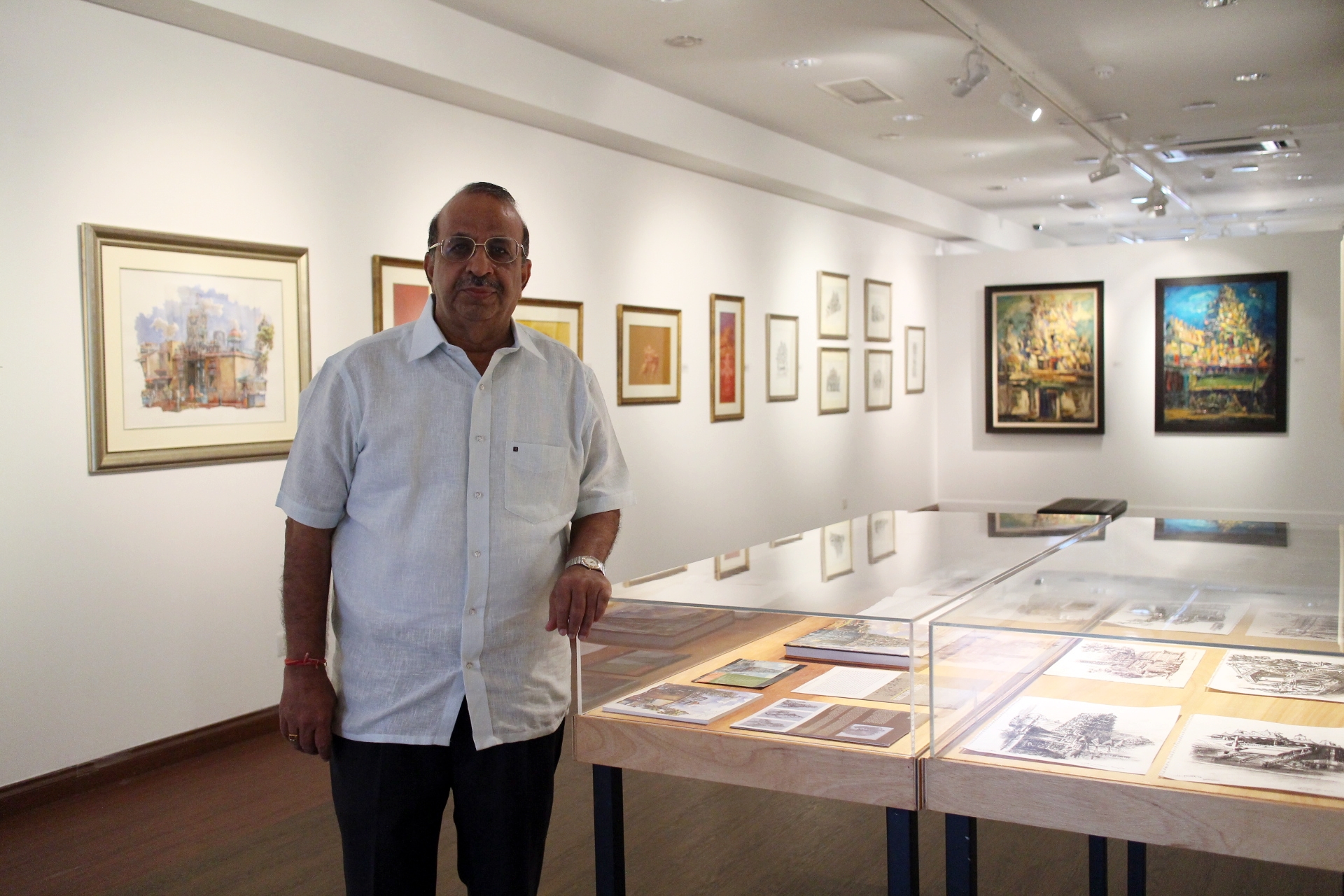 It has been 10 years since the first exhibition of Sacred Structures, comprising artworks of Hindu buildings commissioned by Prof Dr K G Rampal, 66, and his wife, Kamla, 60, was held.
On display were more than 300 works of Hindu temples and other culturally significant buildings in various countries, commissioned in the past 13 years. The buildings depicted reflected a significant contribution to documenting the cultural and religious legacy of the Indian diaspora.
The exhibition was held at the Malaysia Heritage Trust (Badan Warisan Malaysia) centre in 2007. A decade later, Rampal decided to continue his personal journey and endeavour by organising Sacred Structures: The Journey Continues, after the conclusion of the fourth edition of the exhibition held three years ago at the Asian Art Museum in Universiti Malaya.
"Being passionate is the attitude that has kept me doing this since 2004," says Rampal, who had never thought his collection of commissioned paintings, drawings and photographs of buildings sacred to the Hindus would be expanded.
He has the full support of his wife in his religious undertaking. Indeed, Kamla is the "driving force" of the family — she drives him around all the time, often with the commissioned artists, to whichever place they choose to visit. Last year, both of them flew to England to check out the temples in Birmingham, Bradford, Leicester, Liverpool, London, Manchester and Tividale.
Rampal, who is professor of community and occupational medicine and director of the Centre for Graduate Studies at Cyberjaya University College of Medical Sciences, has travelled far and wide with Kamla and various artists to locate sacred sites. The exhibition is a way of sharing with everyone the majestic temple creations and the aesthetic of their architecture and sculptures as rendered by different artists and in various mediums.
As the collection is probably the largest of such artworks, Rampal decided to show them in sequence, showcasing different works each time. He has also focused on England because it is home to numerous Hindu temples. Historically, some of them were abandoned public buildings that the local Indian communities bought over and converted into temples.
On how he picks which artist works on which temple, he explains, "This is based on location. For example, most of the artists are from Kuala Lumpur but I take them to other places. In Tham Siew Inn's case, he is based in Melaka, so I asked him to work on the temples in Melaka, Seremban and Port Dickson.
"Generally, wherever the artists are based, they are willing to travel. For example, [George Town based] Chong Hon Fatt has done temples here in Kuala Lumpur but most of his temple paintings were done in Penang."
According to Rampal, though some of the works have been exhibited before, there is always something new to show because of the large number of paintings in the collection. Included in the current show are works of temples in England and photographic prints by Stephen Menon.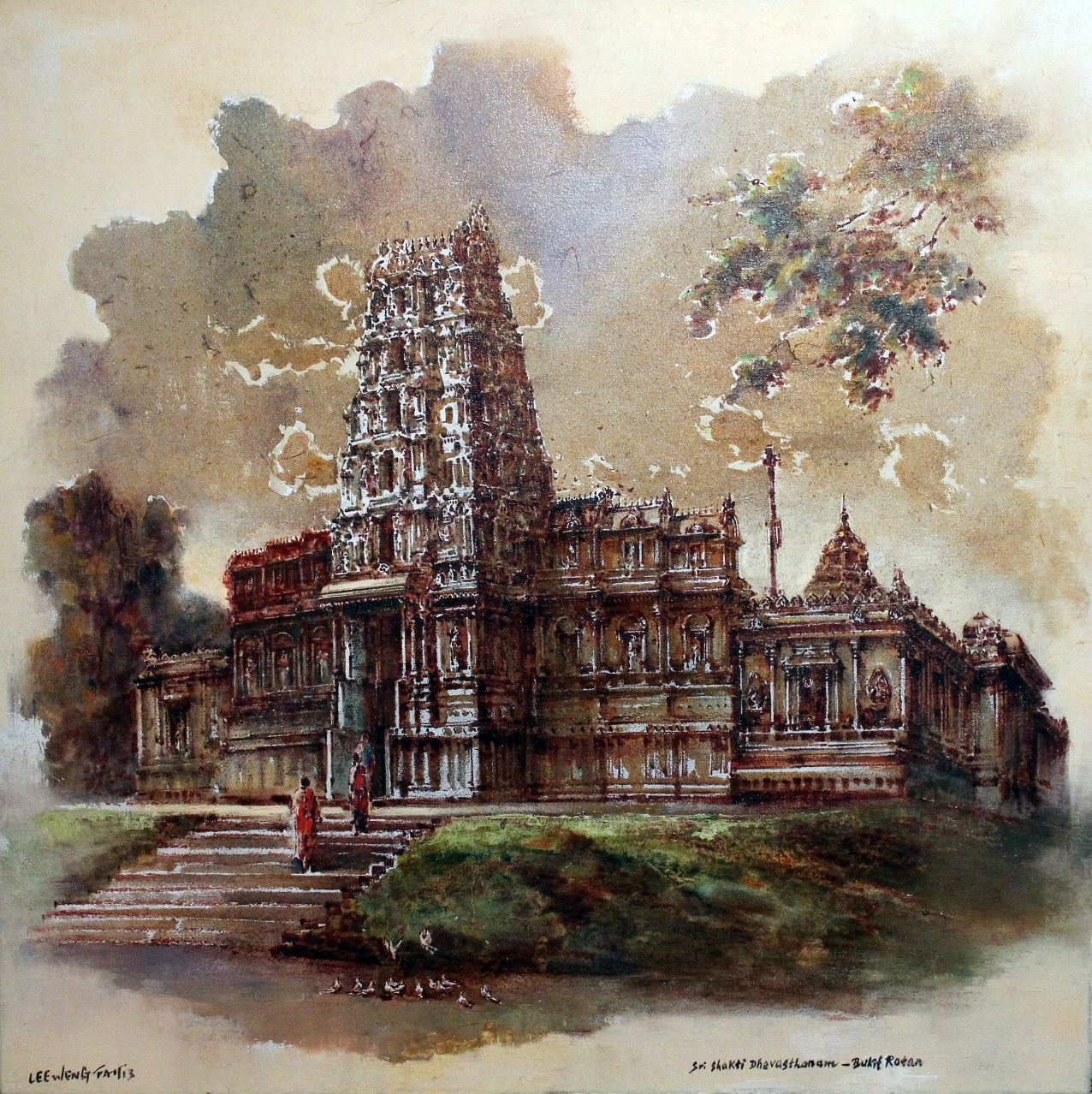 Rampal is full of praise for a painting done by Lee Weng Fatt entitled Sri Shakti Devasthanam Temple, Bukit Rotan, because of the way the artist "captured" its every detail. "The way he sketched this particular temple is very nice," he says.
The collection started with 180 works of Hindu temples in Malaysia and Singapore by 10 local artists. Lee, who is known for depicting heritage buildings, was tasked with working on 100 temples all over Malaysia as well as Labuan. He also painted Hindu temples found in Indonesia, Cambodia, Vietnam, Thailand and Myanmar between 2004 and 2014. Featured in this exhibition are paintings of 12 temples in England done this year.
Between 2008 and 2014, Stephen Menon, Ma'amor Jantan, Hasnee Abdul Rahman and Kelvin Kelvin Chap were commissioned to paint for Rampal and Kamla's collection, and last year, local artist and National Art Gallery board member Dr S Chanthiran produced six works of temples in India while Malaysian photographer Nirmala Karuppiah captured 20 black-and-white images of Hindu buildings in the Klang Valley.
These artworks are rendered in various mediums, including ink, watercolour, acrylic on rice paper, oil on canvas and photographic prints.
Sacred Structures was exhibited in the Penang State Art Gallery in 2011, and some of its works were included in Ten Years of Temples that was held at the Asian Art Museum, Universiti Malaya, in 2014.
Other Malaysian artists whose works have been included since the first exhibition are Jegananthan Ramachandram, Long Thien Shih, Peter Liew, Lai Loong Sung, Soh Chee Hui, Victor Chin and Pheh It Hao.
How the journey began
---
"I have been collecting art since 1991 and my journey started with the purchase of a painting by Chew Fang Chin entitled Mulu Caves in pastel on rice paper," says Rampal.
His interest in art was triggered in the late 1980s when he started visiting art galleries and museums in the US where he was pursuing postgraduate studies at Johns Hopkins University in Baltimore. Though he returned to Malaysia after his course, his fascination for art continued and he started visiting the National Art Gallery and other galleries regularly in 1989.
In 1991, while Rampal was attending a seminar in Kuching, he befriended Hoe Say Yong, an artists and the owner of Pipal Fine Art. "He guided me in theearly years of my collecting and still does," says Rampal.
Since 1995, he has been collecting works by Zulkifli Yusoff and drawings and paintings by Latiff Mohidin and Chang Fee Ming. "I must like the work and the work must be able to communicate with me; the name is
not important," Rampal points out. "My passion for art collecting led to an invitation to serve on the board of trustees of the National Art Gallery between 1998 and 2004."
Rampal, who only started to collect works of Hindu temples in 2004, had more time to spend on his passion after his tenure as a trustee ended. For the past three years, he has been the National Art Gallery's programmes and acquisition committee chairman.
To date, the professor has collected some 600 artworks. "You collect what you like, the number is not important," he concludes.
Sacred Structures: The Journey Continues ends on July 30. It is on view at Creative Space 3, National Art Gallery, 2 Jalan Temerloh, off Jalan Tun Razak, Kuala Lumpur.