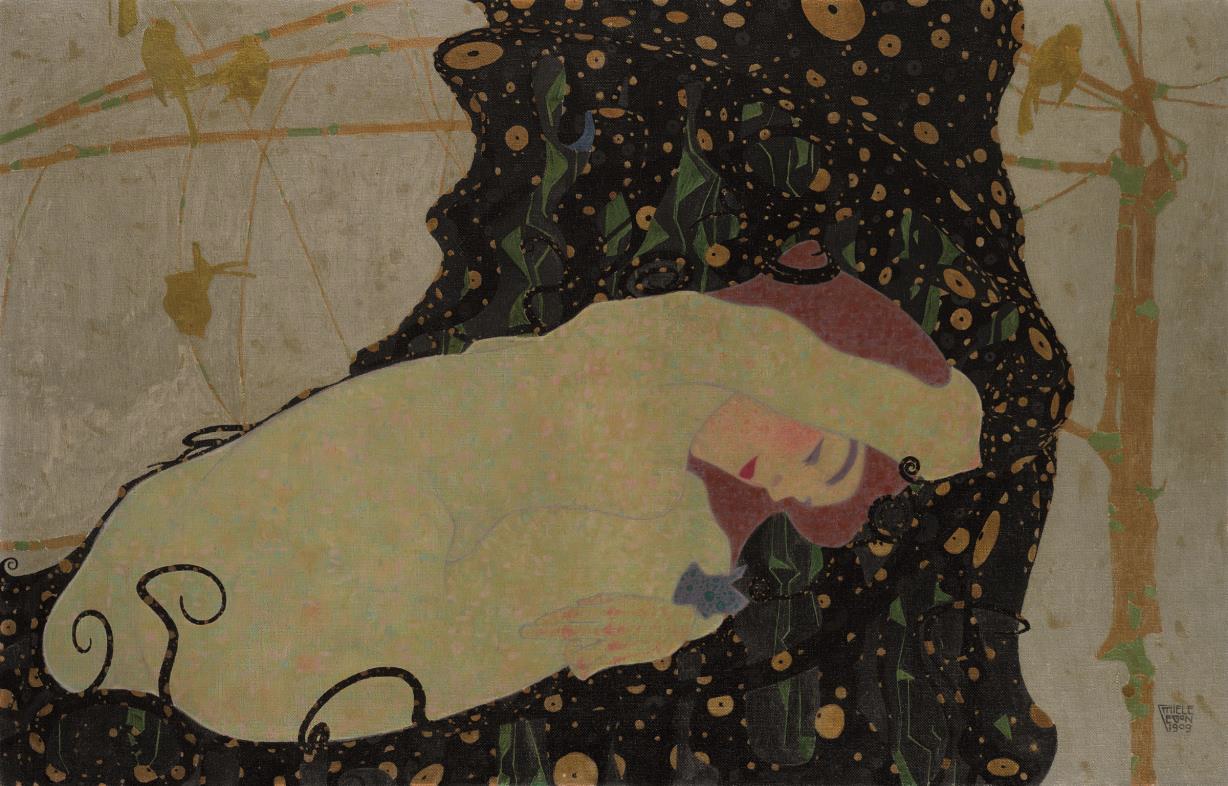 Egon Schiele's Danaë estimated to fetch at least US$30mil
On May 16, Sotheby's New York Evening Sale of Impressionist & Modern Art  will be led by Egon Schiele's first masterpiece: Danaë, painted in 1909 when the artist was 19 years old.
Daring in its technique, the work offers the earliest expression of Schiele's extraordinary vision. Danaë is distinguished further as the artist's first major oil painting of a female nude, heralding the revolutionary aesthetic his art would develop over the next decade, until his untimely death at the age of 28.
Danaë will be on view at Sotheby's Hong Kong on April 27 and 28 before returning to New York for exhibition beginning May 5. The work, which marks the first major figural oil painting by Schiele to appear at auction since 2001, is estimated to sell for US$30–40 million / HK$234–312 million in the May evening sale.
Sotheby's Worldwide Impressionist & Modern Art department co-head Simon Shaw commented: "It is a privilege to offer this sensational masterpiece by Egon Schiele. Danaë makes a bold and compelling statement, introducing his unique vision: the flattened pictorial space, the angular line, the radical cropping and stippled flesh rendered in pinks and greens. We have witnessed strong demand for breakthrough masterpieces, from Munch's Vampire to Picasso's La Gommeuse, and we look forward to presenting Schiele's Danaë to collectors and museums in May."
Sotheby's set the current auction record for any work by Egon Schiele when his 1914 landscape Häuser mit bunter Wäsche (Vorstadt II) sold for $39.8 million in 2011. However, an important figural oil by the artist has not appeared at auction since 2001, when Sotheby's sold Porträt des Malers Anton Peschka for $11.4 million. That work dates to 1909, as does Danaë.
The mythological origins of Danaë serve as a perfect backdrop for its highly-stylized execution and ambiguous space, while also allowing for the use of a nude as subject matter — a principal focus for Schiele. The work's jewel-like surface, geometric patterning and broad use of color reflect the opulence of the Jugenstil movement, which reached its peak at the time of the work's creation. The painting's daring composition pays homage to Schiele's informal mentor, Gustav Klimt, who championed the young artist throughout his career.
Danaë depicts how the stunning daughter of King Acrisius of Argos was imprisoned in a bronze tower by her father. Disappointed that he did not have a male heir, Acrisius consulted an oracle, who informed him that Danaë's son would kill him. In order to keep her childless, the king banished Danaë to a tower, away from potential suitors. While no mortal could reach her, Danaë's imprisonment did not deter Zeus and his insatiable desire for young maidens; the fabled Greek god transformed into a shower of golden rain, allowing him to enter the tower and impregnate the beautiful subject.
Schiele imagines the beautiful Danaë, her flesh stippled with various hues, engulfed by a gold, green and black shower of Zeus. The artist's exquisite talent is evident in the lines on Danaë's hand, shoulder blades and right arm; the supreme delicacy of her facial features lays in stark contrast. Other stylistic elements, such as the radical cropping and ambiguity of her form contribute to the work's avant-garde composition.