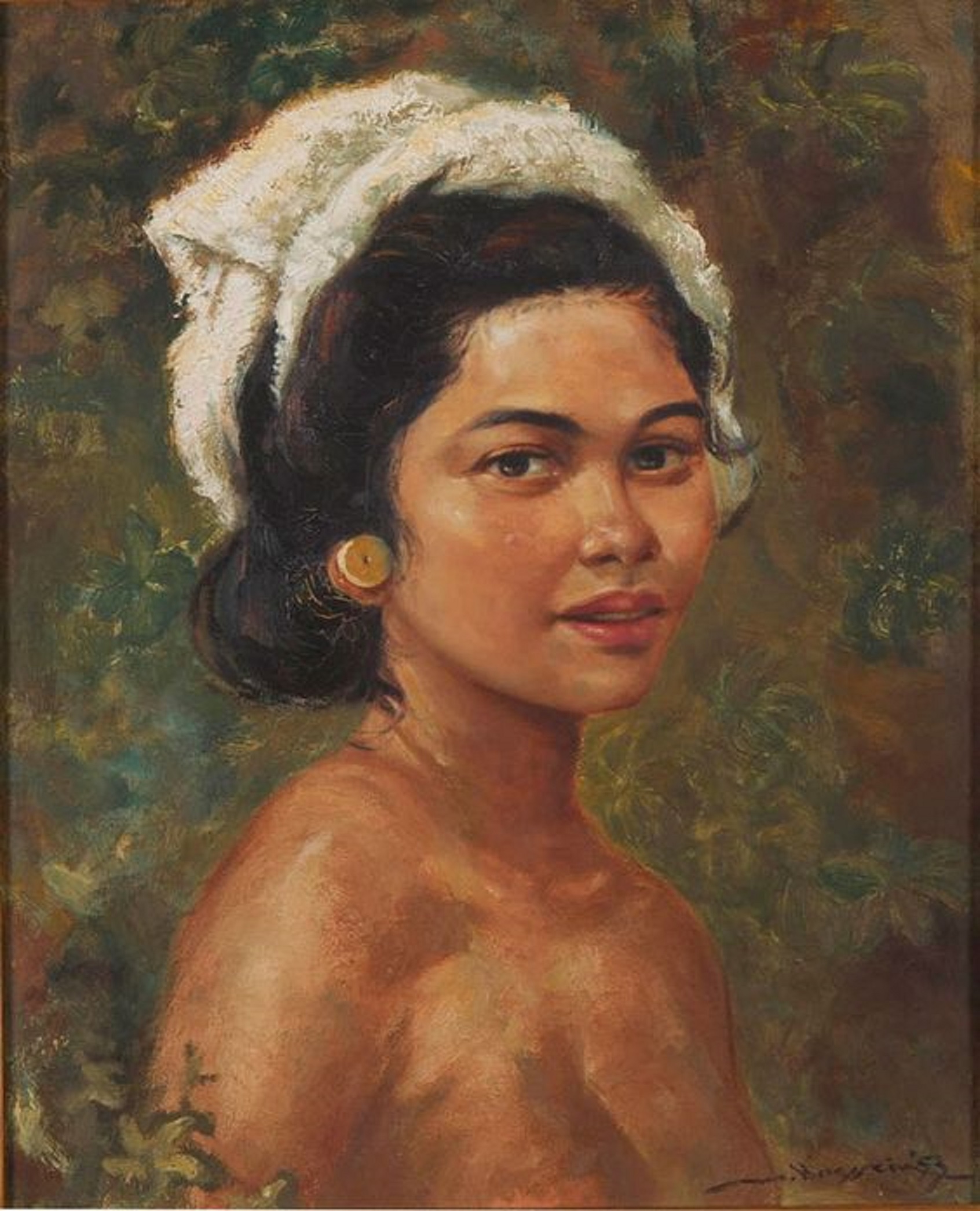 Dato' Hoessein Enas and Lee Cheng Yong have much in common as artists as they were both greatly influenced by Western art and both practised in Penang. Both excelled in oil painting especially in portraiture, leaving an invaluable legacy of art that document the vibrancy of a bygone period.
Born in Bogor, Indonesia, in 1924 and died in Kuala Lumpur in 1995, Hoessein arrived in Singapore in 1947. He hid in a barge to escape the armed conflicts arising between Indonesian and Dutch forces for the rights to independence.
Separated from his wife and four children, Hoessein made a living off of his paintings and planned to return to Indonesia via Penang in the same year. But a Dutch blockade pursued his boat upon arrival in Indonesian waters, and he was forced to return to Penang. There, he befriended artists Yong Mun Sen and Abdullah Ariff, and Malaysian Tribune journalist Frank Sullivan, who encouraged him to exhibit his works in Kuala Lumpur.
Hoessein had begun painting in 1938 in Indonesia, and had survived the Indo-Dutch struggle by painting propaganda posters for the various political parties in power. By chance, he met the late Datuk Ibrahim Hussein's brother, now Professor Abdullah Hussein. The latter not only sponsored Hoessein's first exhibition in KL but also assisted him in acquiring painting materials. He finally managed to arrange for his wife and children to move to Penang in November of 1948.
Hoessein painted in the Western academic tradition. He was gifted with the talent of crafting the likeness of his figures through accurate lines and smooth blending of his paint pigments. Working on commission, his work ranges from genre portraits to portraits of his patrons, which have included the Sarawak Chief Minister and other political leaders, including Tun Dr Mahathir Mohamad. In 1990, Hoessein was conferred the title of Royal Portrait Artist by the Sultan of Selangor, who later awarded him a Datuskship.
Conversely, Lee Cheng Yong who was born in 1913 and died in 1974 in Penang, was reportedly a loner who shunned publicity. President of the Penang Chinese Art Club since its founding in 1936, Lee painted in a post-Impressionist fashion, taking stylistic elements from French painters such as Paul Cezanne, Vincent van Gogh, and Paul Gauguin. It is likely that his education at the Sin Hwa Art Academy (Shanghai Art Academy) exposed him to modern Western movements. At least 200 works have been attributed to his hand, including a sculptural relief of Tunku Abdul Rahman, Malaysia's first Prime Minister.
Lee's body of work is characterised by constant experimenting, and his ability to move between styles of representation. Such an adventurous spirit has influenced artist and novelist Lee Joo For (b.1929), who in 1995 claimed "Some of my most daring artworks today have traced and declared their genesis to that day when I feasted my eyes upon his experimental and creative works".
In his normal working hours, he was the discipline master and art teacher at Chung Ling High School in Penang.