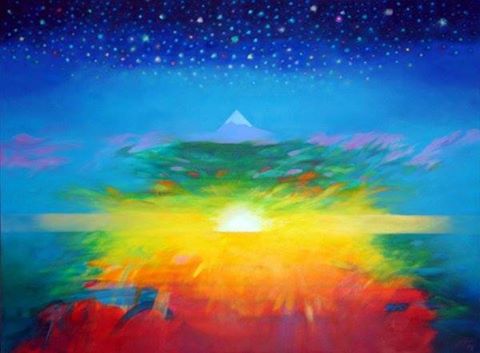 The late Datuk Syed Ahmad Jamal's acrylic on canvas painting, Semangat Ledang, 1999, is used as an illustration for the launch of the KL Biennale which is said to "explore art and spirituality".
Johan Ishak (centre) is the organising chairman of the KL Biennale 2017.
The National Art Gallery officially announced its inaugural edition of the Kuala Lumpur Biennale 2017 with the theme of "BELAS or Be Loved" that "recognizes, embraces and echoes societal values".
At a press conference today at the gallery, it was revealed that MyCreative Ventures CEO Johan Ishak is the organising chairman.
In a Facebook posting under "KL Biennale", the event is touted as an "international exhibition" and scheduled from  Nov 1, 2017, to March 31, 2018, and will be staged at "multiple sites in Kuala Lumpur".
Central to the KL Biennale are stories of BELAS (Be Loved), presented through a specially-curated exhibition featuring "modern and contemporary art works" including:
• love for nature or Belas Alam
• love for heritage or Belas Warisan
• love for people or Belas Insan
• love for animals or Belas Haiwan, and
• love for Malaysian legendary icons or Belasungkawa
 "The KL Biennale will see a shift in the way of experiencing art: not to revere the art or the artist alone but to rejoice in the narrative or stories presented by the unsung heroes, conservationists, architects, art activists, practitioners, environmentalists, scientists, organizations, communities and various personalities."
The Facebook announcement also states that the event wil be, "Featuring a stellar line-up of artists from Southeast Asia, China, South Korea, Japan and India, the KL Biennale is anticipated by Malaysians and visitors as a highlight on the city's cultural calendar, for its active international and local collaboration and a meaningful exchange of ideas. It is anticipated to invigorate the local cultural sector via the 'Biennale' brand and amplify Kuala Lumpur's position on the global cultural map."